Most Detailed Concrete Cleaning Services In Sacramento
Your driveway, walkways and sidewalks may be extremely dirty due to the difficulty in washing them with just a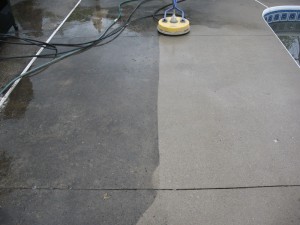 traditional garden hose. This may lead you to believe that you just have to live with dirty concrete. Thanks to a Sacramento concrete cleaning company, Precision Power Washing, ugly concrete doesn't have to be a fixture at your house. We have the pressure washing equipment available to make these areas shine like new again.
Some home owners are ambitious at first and try to take on the concrete cleaning job themselves. However, they soon become frustrated when they realize that Home Depot cleaners and a rented pressure washer are not doing the job right. It is at this point that many people see the benefit in contacting a concrete cleaning company to get the job done professionally.
By contacting a company such as Precision Power Washing, you could potentially be saving yourself many hours of manpower just to clean your driveway. Who wants to spend an entire weekend cleaning a driveway when there are sports to play and beaches to go to? If you would rather spend your valuable free time actually having fun, leave the pressure washing job to the professionals. Your friends will be happy to see you and your back will thank you for all of the pain you saved it from.
At Precision Power Washing we have the cleaners and the proper cleaning equipment to remove rust, tree sap, dirt and any other substance which may be in the porous surfaces of your concrete.
We are happy to provide you with a free, no-pressure estimate for our concrete washing services. We look forward to working with you to make yours the cleanest driveway on the block.
Window Cleaning Sacramento CA, Chico CA, Paradise CA, Pressure Washing Yuba City CA, Magalia CA, West Sacramento CA, Carmichael CA, Rancho Cordova CA, North Highlands CA, Rio Linda CA, Mather CA, Mcclellan CA, Elk Grove CA, Antelope CA, Elverta CA, Fair Oaks CA, Citrus Heights CA, El Macero CA, Orangevale CA, Hood CA, Clarksburg CA, House Cleaning Roseville CA, Davis CA, Gutter Cleaning Folsom CA, Wilton CA, Courtland CA, Woodland CA, Power Washing Granite Bay CA, Yolo CA, Pleasant Grove CA, Pressure Washing Rocklin CA, Sloughhouse CA, Represa CA, Window Cleaning El Dorado Hills CA, Nicolaus CA, Galt CA, Dixon CA, Loomis CA, Herald CA, Thornton CA, Walnut Grove CA, Gutter Cleaning Lincoln CA, Penryn CA, Knights Landing CA, Rescue CA, Shingle Springs CA, Newcastle CA, Ryde CA, Rio Oso CA, Acampo CA, Robbins CA, Pilot Hill CA, Winters CA, Elmira CA, Isleton CA, Zamora CA, Madison CA, Woodbridge CA, Sheridan CA, Auburn CA, Lodi CA, Ione CA, Plymouth CA, Vacaville CA, Wheatland CA, Lockeford CA, Rio Vista CA, Esparto CA, House Cleaning El Dorado CA, Clements CA, Travis Afb CA, Lotus CA, Cool CA, Coloma CA, Diamond Springs CA, Amador City CA, Victor CA, Birds Landing CA, Olivehurst CA, Placerville CA, Drytown CA, Wallace CA, Dunnigan CA, Sutter Creek CA, Stockton CA, River Pines CA, Meadow Vista CA, Greenwood CA, Garden Valley CA, Applegate CA, Bethel Island CA, Capay CA, Fairfield CA, Beale Afb CA, Campo Seco CA, Martell CA, Weimar CA, Burson CA, Jackson CA, Suisun City CA, Meridian CA, Arbuckle CA, Oakley CA, Grimes CA, Valley Springs CA, Gutter Cleaning Grass Valley CA, Georgetown CA, Linden CA, Antioch CA, Colfax CA, Pittsburg CA, Foresthill CA, Benicia CA, Mountain View CA, Martinez CA, 94035, 94039, 94042, 94203, 94204, 94205, 94206, 94207, 94208, 94209, 94211, 94229, 94230, 94232, 94234, 94235, 94236, 94237, 94239, 94240, 94243, 94244, 94245, 94246, 94247, 94248, 94249, 94250, 94252, 94253, 94254, 94256, 94257, 94258, 94259, 94261, 94262, 94263, 94267, 94268, 94269, 94271, 94273, 94274, 94277, 94278, 94279, 94280, 94282, 94283, 94284, 94285, 94286, 94287, 94288, 94289, 94290, 94291, 94293, 94294, 94295, 94296, 94297, 94298, 94299, 94509, 94510, 94511, 94512, 94531, 94533, 94534, 94535, 94553, 94561, 94565, 94571, 94585, 95207, 95209, 95210, 95212, 95219, 95220, 95225, 95226, 95227, 95236, 95237 ,95240 , 95241, 95242, 95252, 95253, 95254, 95258, 95601, 95602, 95603, 95604, 95605, 95607, 95608, 95609, 95610, 95611, 95612, 95613, 95614, 95615, 95616, 95617, 95618, 95619, 95620, 95621, 95623, 95624, 95625, 95626, 95627, 95628, 95630, 95631, 95632, 95633, 95634, 95635, 95638, 95639, 95640, 95641, 95642, 95645, 95648, 95650, 95651, 95652, 95653, 95654, 95655, 95658, 95659, 95660, 95661, 95662, 95663, 95664, 95667, 95668, 95669, 95670, 95671, 95672, 95673, 95674, 95675, 95676, 95677, 95678, 95680, 95681, 95682, 95683, 95685, 95686, 95687, 95688, 95690, 95691, 95692, 95693, 95694, 95695, 95696, 95697, 95698, 95699, 95703, 95713, 95722, 95736, 95741, 95742, 95743, 95746, 95747, 95758, 95759, 95762, 95763, 95765, 95776, 95798, 95799, 95812, 95813, 95814, 95815, 95816, 95817, 95818, 95819, 95820, 95821, 95822, 95823, 95824, 95825, 95826, 95827, 95828, 95829, 95830, 95831, 95832, 95833, 95834, 95835, 95836, 95837, 95838, 95840, 95841, 95842, 95843, 95851, 95852, 95853, 95857, 95860, 95864, 95865, 95866, 95867, 95873, 95887, 95894, 95899, 95903, 95912, 95937, 95949, 95950, 95957, 95961, 95991, 95992, 95993