Safe Low Pressure Roof Cleaning
Cleaning your own roof can be a dirty and dangerous job. Homeowners who have attempted to do the job themselves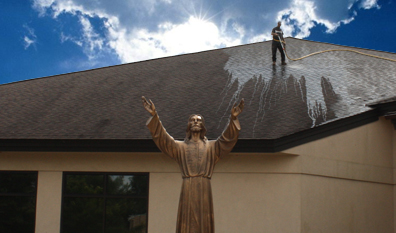 have been severely injured by falling from roofs that are wet and slippery. When you consider the risks involved and the fact that most homeowners would rather be doing just about anything else, it is no wonder that people look for a roof doctor in Sacramento when it comes time for this monumental task.
Allowing moss to grow between the shingles of your roof can create many potential problems long-term. It allows for water to build up behind the shingles which causes leaking, rotting and decomposition.
When it comes to roof cleaning Sacramento, the best option to take is the use of a low pressure cleaning method to eliminate moss and other material that has grown in the cracks of your roof shingles. This is where a roof cleaning Sacramento company like Precision Power Washing can step in an get the job done right. Precision Power Washing is a roof cleaning expert in Sacramento who has the proper tools to clean your roof and shingles without causing damage.
When  performing your roof cleaning, we will use the proper cleaners and low pressure cleaning techniques needed to increase the performance and longevity of your roof. Our roof cleaning expert will apply cleaning chemicals which are designed to kill moss, making sure the moss no longer continues to grow.  Once this step is complete, we will rinse away the moss and debris with low pressures bring your roof to a new like condition.
At Precision Power Washing, we are professional roof cleaners with years of experience who know how to safely and effectively get the job done.  We are a licensed and insured pressure washing contractor who can provide you with a free estimate for our services upon request.
Window Cleaning Sacramento CA, Chico CA, Paradise CA, Pressure Washing Yuba City CA, Magalia CA, West Sacramento CA, Carmichael CA, Rancho Cordova CA, North Highlands CA, Rio Linda CA, Mather CA, Mcclellan CA, Elk Grove CA, Antelope CA, Elverta CA, Fair Oaks CA, Citrus Heights CA, El Macero CA, Orangevale CA, Hood CA, Clarksburg CA, House Cleaning Roseville CA, Davis CA, Gutter Cleaning Folsom CA, Wilton CA, Courtland CA, Woodland CA, Power Washing Granite Bay CA, Yolo CA, Pleasant Grove CA, Pressure Washing Rocklin CA, Sloughhouse CA, Represa CA, Window Cleaning El Dorado Hills CA, Nicolaus CA, Galt CA, Dixon CA, Loomis CA, Herald CA, Thornton CA, Walnut Grove CA, Gutter Cleaning Lincoln CA, Penryn CA, Knights Landing CA, Rescue CA, Shingle Springs CA, Newcastle CA, Ryde CA, Rio Oso CA, Acampo CA, Robbins CA, Pilot Hill CA, Winters CA, Elmira CA, Isleton CA, Zamora CA, Madison CA, Woodbridge CA, Sheridan CA, Auburn CA, Lodi CA, Ione CA, Plymouth CA, Vacaville CA, Wheatland CA, Lockeford CA, Rio Vista CA, Esparto CA, House Cleaning El Dorado CA, Clements CA, Travis Afb CA, Lotus CA, Cool CA, Coloma CA, Diamond Springs CA, Amador City CA, Victor CA, Birds Landing CA, Olivehurst CA, Placerville CA, Drytown CA, Wallace CA, Dunnigan CA, Sutter Creek CA, Stockton CA, River Pines CA, Meadow Vista CA, Greenwood CA, Garden Valley CA, Applegate CA, Bethel Island CA, Capay CA, Fairfield CA, Beale Afb CA, Campo Seco CA, Martell CA, Weimar CA, Burson CA, Jackson CA, Suisun City CA, Meridian CA, Arbuckle CA, Oakley CA, Grimes CA, Valley Springs CA, Gutter Cleaning Grass Valley CA, Georgetown CA, Linden CA, Antioch CA, Colfax CA, Pittsburg CA, Foresthill CA, Benicia CA, Mountain View CA, Martinez CA, 94035, 94039, 94042, 94203, 94204, 94205, 94206, 94207, 94208, 94209, 94211, 94229, 94230, 94232, 94234, 94235, 94236, 94237, 94239, 94240, 94243, 94244, 94245, 94246, 94247, 94248, 94249, 94250, 94252, 94253, 94254, 94256, 94257, 94258, 94259, 94261, 94262, 94263, 94267, 94268, 94269, 94271, 94273, 94274, 94277, 94278, 94279, 94280, 94282, 94283, 94284, 94285, 94286, 94287, 94288, 94289, 94290, 94291, 94293, 94294, 94295, 94296, 94297, 94298, 94299, 94509, 94510, 94511, 94512, 94531, 94533, 94534, 94535, 94553, 94561, 94565, 94571, 94585, 95207, 95209, 95210, 95212, 95219, 95220, 95225, 95226, 95227, 95236, 95237 ,95240 , 95241, 95242, 95252, 95253, 95254, 95258, 95601, 95602, 95603, 95604, 95605, 95607, 95608, 95609, 95610, 95611, 95612, 95613, 95614, 95615, 95616, 95617, 95618, 95619, 95620, 95621, 95623, 95624, 95625, 95626, 95627, 95628, 95630, 95631, 95632, 95633, 95634, 95635, 95638, 95639, 95640, 95641, 95642, 95645, 95648, 95650, 95651, 95652, 95653, 95654, 95655, 95658, 95659, 95660, 95661, 95662, 95663, 95664, 95667, 95668, 95669, 95670, 95671, 95672, 95673, 95674, 95675, 95676, 95677, 95678, 95680, 95681, 95682, 95683, 95685, 95686, 95687, 95688, 95690, 95691, 95692, 95693, 95694, 95695, 95696, 95697, 95698, 95699, 95703, 95713, 95722, 95736, 95741, 95742, 95743, 95746, 95747, 95758, 95759, 95762, 95763, 95765, 95776, 95798, 95799, 95812, 95813, 95814, 95815, 95816, 95817, 95818, 95819, 95820, 95821, 95822, 95823, 95824, 95825, 95826, 95827, 95828, 95829, 95830, 95831, 95832, 95833, 95834, 95835, 95836, 95837, 95838, 95840, 95841, 95842, 95843, 95851, 95852, 95853, 95857, 95860, 95864, 95865, 95866, 95867, 95873, 95887, 95894, 95899, 95903, 95912, 95937, 95949, 95950, 95957, 95961, 95991, 95992, 95993