Deck Cleaning & Sealing Sacramento, Ca
Many homeowners love having a deck for those summer cookouts and backyard parties, but they may not realize what it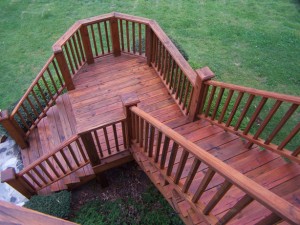 takes for its upkeep. Decks typically need to be cleaned and stained every two years, which makes it last longer while at the same time keeping the deck looking beautiful and new.
In caring for a deck, a homeowner should ask an expert deck cleaning and staining contractor who knows wood restoration and knows how to care for each kind of timber that is used for decks. Enter the experts of deck cleaning in Sacramento: Precision Power Washing. We are professionals who take care of a homeowner's deck as if it were our own.
Our professionals use the best deck cleaners, brighteners and sealers available for the treated deck wood. Another important thing to know about deck cleaning is having the correct psi of the pressure washing equipment for any given deck and the particulars of its materials and condition. An incorrect psi can seriously damage the wood of any deck.
The professionals of Precision Power Washing have the patience, the know-how and the skills to restore a deck to its original beauty and strength so it can stand up to the beating it takes from snow, rain, hail and the sun's damaging rays. Apply stain to a deck is a chore in itself, as applying it takes precision and patience. The stain must be applied evenly to an immaculately clean surface so that the deck does not end up with unsightly light and dark spots, streaks or runs. Plus, there needs to be adequate coverage of the stain to properly protect the deck materials. Trust the professionals who know how to stain decks perfectly for both the longevity and beauty of a deck.
Getting the deck cleaning and deck staining job done correctly is important to the life of a deck and will add significant value to your home. Letting Precision Power Washing, the deck restoration professionals, do what we are experts in, makes life easier for the homeowner.
For any and all deck cleaning and deck staining needs, be sure to call upon Precision Power Washing, the professionals who know how to care for, beautify and protect decks.
Window Cleaning Sacramento CA, Chico CA, Paradise CA, Pressure Washing Yuba City CA, Magalia CA, West Sacramento CA, Carmichael CA, Rancho Cordova CA, North Highlands CA, Rio Linda CA, Mather CA, Mcclellan CA, Elk Grove CA, Antelope CA, Elverta CA, Fair Oaks CA, Citrus Heights CA, El Macero CA, Orangevale CA, Hood CA, Clarksburg CA, House Cleaning Roseville CA, Davis CA, Gutter Cleaning Folsom CA, Wilton CA, Courtland CA, Woodland CA, Power Washing Granite Bay CA, Yolo CA, Pleasant Grove CA, Pressure Washing Rocklin CA, Sloughhouse CA, Represa CA, Window Cleaning El Dorado Hills CA, Nicolaus CA, Galt CA, Dixon CA, Loomis CA, Herald CA, Thornton CA, Walnut Grove CA, Gutter Cleaning Lincoln CA, Penryn CA, Knights Landing CA, Rescue CA, Shingle Springs CA, Newcastle CA, Ryde CA, Rio Oso CA, Acampo CA, Robbins CA, Pilot Hill CA, Winters CA, Elmira CA, Isleton CA, Zamora CA, Madison CA, Woodbridge CA, Sheridan CA, Auburn CA, Lodi CA, Ione CA, Plymouth CA, Vacaville CA, Wheatland CA, Lockeford CA, Rio Vista CA, Esparto CA, House Cleaning El Dorado CA, Clements CA, Travis Afb CA, Lotus CA, Cool CA, Coloma CA, Diamond Springs CA, Amador City CA, Victor CA, Birds Landing CA, Olivehurst CA, Placerville CA, Drytown CA, Wallace CA, Dunnigan CA, Sutter Creek CA, Stockton CA, River Pines CA, Meadow Vista CA, Greenwood CA, Garden Valley CA, Applegate CA, Bethel Island CA, Capay CA, Fairfield CA, Beale Afb CA, Campo Seco CA, Martell CA, Weimar CA, Burson CA, Jackson CA, Suisun City CA, Meridian CA, Arbuckle CA, Oakley CA, Grimes CA, Valley Springs CA, Gutter Cleaning Grass Valley CA, Georgetown CA, Linden CA, Antioch CA, Colfax CA, Pittsburg CA, Foresthill CA, Benicia CA, Mountain View CA, Martinez CA, 94035, 94039, 94042, 94203, 94204, 94205, 94206, 94207, 94208, 94209, 94211, 94229, 94230, 94232, 94234, 94235, 94236, 94237, 94239, 94240, 94243, 94244, 94245, 94246, 94247, 94248, 94249, 94250, 94252, 94253, 94254, 94256, 94257, 94258, 94259, 94261, 94262, 94263, 94267, 94268, 94269, 94271, 94273, 94274, 94277, 94278, 94279, 94280, 94282, 94283, 94284, 94285, 94286, 94287, 94288, 94289, 94290, 94291, 94293, 94294, 94295, 94296, 94297, 94298, 94299, 94509, 94510, 94511, 94512, 94531, 94533, 94534, 94535, 94553, 94561, 94565, 94571, 94585, 95207, 95209, 95210, 95212, 95219, 95220, 95225, 95226, 95227, 95236, 95237 ,95240 , 95241, 95242, 95252, 95253, 95254, 95258, 95601, 95602, 95603, 95604, 95605, 95607, 95608, 95609, 95610, 95611, 95612, 95613, 95614, 95615, 95616, 95617, 95618, 95619, 95620, 95621, 95623, 95624, 95625, 95626, 95627, 95628, 95630, 95631, 95632, 95633, 95634, 95635, 95638, 95639, 95640, 95641, 95642, 95645, 95648, 95650, 95651, 95652, 95653, 95654, 95655, 95658, 95659, 95660, 95661, 95662, 95663, 95664, 95667, 95668, 95669, 95670, 95671, 95672, 95673, 95674, 95675, 95676, 95677, 95678, 95680, 95681, 95682, 95683, 95685, 95686, 95687, 95688, 95690, 95691, 95692, 95693, 95694, 95695, 95696, 95697, 95698, 95699, 95703, 95713, 95722, 95736, 95741, 95742, 95743, 95746, 95747, 95758, 95759, 95762, 95763, 95765, 95776, 95798, 95799, 95812, 95813, 95814, 95815, 95816, 95817, 95818, 95819, 95820, 95821, 95822, 95823, 95824, 95825, 95826, 95827, 95828, 95829, 95830, 95831, 95832, 95833, 95834, 95835, 95836, 95837, 95838, 95840, 95841, 95842, 95843, 95851, 95852, 95853, 95857, 95860, 95864, 95865, 95866, 95867, 95873, 95887, 95894, 95899, 95903, 95912, 95937, 95949, 95950, 95957, 95961, 95991, 95992, 95993