Best Low Pressure House Wash In Sacramento
Your home is exposed to the elements of weather on a daily basis, and it can also accumulate layers of dirt, grime, mold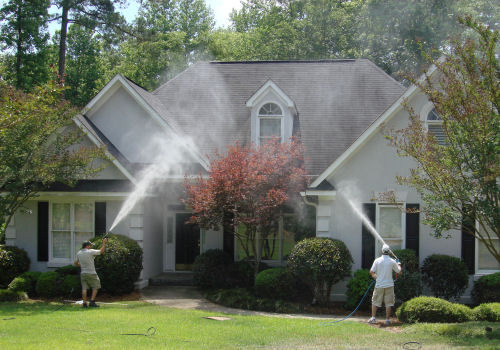 and mildew. Although you may not want to take on such a dirty job, the exterior of your house needs washing the same way your car does. In fact, experts recommend a full power wash of your home's exterior at least every two years. It's a big job and someone has to do it, but thanks to Precision Power Washing, that someone doesn't have to be you.
If you are looking for exterior house cleaning services in Sacramento, Ca you have come to the right place. We provide the manpower and professional house cleaning services to get the exterior of your house sparkly clean. It is especially important to keep painted wood, stucco and vinyl siding clean to protect to help maximize the sidings surface life.
A may take on one of two forms. If your home is made mostly of brick, then pressure washing is the best option for cleaning.  However, if it is constructed more with wood and vinyl, your house cleaning would be better achieved with the use of a process called Softwashing. The professionals at Precision Power Washing are trained in the use of both types of equipment.
When people choose to bypass using exterior house cleaning services, there are a few common mistakes they make when trying to tackle the exterior house cleaning project themselves. The first is using too much pressure or holding the cleaning tip too close to the house. This will strip away paint or blow holes in your home's siding. The other common mistake is to use low quality cleaning solutions, which tends to lack in cleaning capability and lead to the exterior of your house requiring high pressure to remove even the smallest of stains and leaving a dirty residue behind.
On the other hand, people who use Precision Power Washing are much less stressed when they leave the job up to professionals who have the proper tools and training to get the job done efficiently.
Window Cleaning Sacramento CA, Chico CA, Paradise CA, Pressure Washing Yuba City CA, Magalia CA, West Sacramento CA, Carmichael CA, Rancho Cordova CA, North Highlands CA, Rio Linda CA, Mather CA, Mcclellan CA, Elk Grove CA, Antelope CA, Elverta CA, Fair Oaks CA, Citrus Heights CA, El Macero CA, Orangevale CA, Hood CA, Clarksburg CA, House Cleaning Roseville CA, Davis CA, Gutter Cleaning Folsom CA, Wilton CA, Courtland CA, Woodland CA, Power Washing Granite Bay CA, Yolo CA, Pleasant Grove CA, Pressure Washing Rocklin CA, Sloughhouse CA, Represa CA, Window Cleaning El Dorado Hills CA, Nicolaus CA, Galt CA, Dixon CA, Loomis CA, Herald CA, Thornton CA, Walnut Grove CA, Gutter Cleaning Lincoln CA, Penryn CA, Knights Landing CA, Rescue CA, Shingle Springs CA, Newcastle CA, Ryde CA, Rio Oso CA, Acampo CA, Robbins CA, Pilot Hill CA, Winters CA, Elmira CA, Isleton CA, Zamora CA, Madison CA, Woodbridge CA, Sheridan CA, Auburn CA, Lodi CA, Ione CA, Plymouth CA, Vacaville CA, Wheatland CA, Lockeford CA, Rio Vista CA, Esparto CA, House Cleaning El Dorado CA, Clements CA, Travis Afb CA, Lotus CA, Cool CA, Coloma CA, Diamond Springs CA, Amador City CA, Victor CA, Birds Landing CA, Olivehurst CA, Placerville CA, Drytown CA, Wallace CA, Dunnigan CA, Sutter Creek CA, Stockton CA, River Pines CA, Meadow Vista CA, Greenwood CA, Garden Valley CA, Applegate CA, Bethel Island CA, Capay CA, Fairfield CA, Beale Afb CA, Campo Seco CA, Martell CA, Weimar CA, Burson CA, Jackson CA, Suisun City CA, Meridian CA, Arbuckle CA, Oakley CA, Grimes CA, Valley Springs CA, Gutter Cleaning Grass Valley CA, Georgetown CA, Linden CA, Antioch CA, Colfax CA, Pittsburg CA, Foresthill CA, Benicia CA, Mountain View CA, Martinez CA, 94035, 94039, 94042, 94203, 94204, 94205, 94206, 94207, 94208, 94209, 94211, 94229, 94230, 94232, 94234, 94235, 94236, 94237, 94239, 94240, 94243, 94244, 94245, 94246, 94247, 94248, 94249, 94250, 94252, 94253, 94254, 94256, 94257, 94258, 94259, 94261, 94262, 94263, 94267, 94268, 94269, 94271, 94273, 94274, 94277, 94278, 94279, 94280, 94282, 94283, 94284, 94285, 94286, 94287, 94288, 94289, 94290, 94291, 94293, 94294, 94295, 94296, 94297, 94298, 94299, 94509, 94510, 94511, 94512, 94531, 94533, 94534, 94535, 94553, 94561, 94565, 94571, 94585, 95207, 95209, 95210, 95212, 95219, 95220, 95225, 95226, 95227, 95236, 95237 ,95240 , 95241, 95242, 95252, 95253, 95254, 95258, 95601, 95602, 95603, 95604, 95605, 95607, 95608, 95609, 95610, 95611, 95612, 95613, 95614, 95615, 95616, 95617, 95618, 95619, 95620, 95621, 95623, 95624, 95625, 95626, 95627, 95628, 95630, 95631, 95632, 95633, 95634, 95635, 95638, 95639, 95640, 95641, 95642, 95645, 95648, 95650, 95651, 95652, 95653, 95654, 95655, 95658, 95659, 95660, 95661, 95662, 95663, 95664, 95667, 95668, 95669, 95670, 95671, 95672, 95673, 95674, 95675, 95676, 95677, 95678, 95680, 95681, 95682, 95683, 95685, 95686, 95687, 95688, 95690, 95691, 95692, 95693, 95694, 95695, 95696, 95697, 95698, 95699, 95703, 95713, 95722, 95736, 95741, 95742, 95743, 95746, 95747, 95758, 95759, 95762, 95763, 95765, 95776, 95798, 95799, 95812, 95813, 95814, 95815, 95816, 95817, 95818, 95819, 95820, 95821, 95822, 95823, 95824, 95825, 95826, 95827, 95828, 95829, 95830, 95831, 95832, 95833, 95834, 95835, 95836, 95837, 95838, 95840, 95841, 95842, 95843, 95851, 95852, 95853, 95857, 95860, 95864, 95865, 95866, 95867, 95873, 95887, 95894, 95899, 95903, 95912, 95937, 95949, 95950, 95957, 95961, 95991, 95992, 95993