Pressure Washing vs. Softwashing
What's better than having a home pressure washed?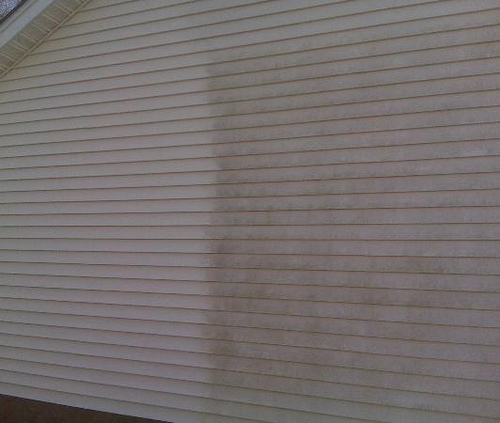 Having it soft washed. Soft washing is the process of low pressure cleaning combined with the highest quality cleaning solutions that actively remove all contaminants from the exterior of the home, making it look like new. Cleanliness may be next to Godliness, but it also adds significantly to curb appeal.
Conversely, pressure washing can cause damage to the surfaces it pounds on. A soft wash cleaning technique is ideal for exterior painted and stained surfaces, and is superior to the process of the harsh abrasives of a pressure washing system.
With professional exterior house cleaning equipment, our pressure washing technicians can clean most homes without the need for ladders or elevated platforms. This reduces the time it takes to perform the job, and reduces the cost.
Soft washing is safe for just about any type of siding materials including vinyl, aluminum, brick, stone, stucco and wood. For removing moss, lichen, streaks, stains, leaves and needles from the roof, soft washing is the only safe way to clean. Even those unsightly black streaks on the roof will disappear, leaving it looking virtually like new. Pressure washing, on the other hand, is very likely to destroy shingles and void the roofing warranty in the process.
Pressure washing equipment might be either electric or gas powered, but either way, both have proven entirely capable of producing enough pressure to significantly damage even the toughest of surfaces including brick, concrete and stone.
Because of the damage caused by pressure washing, professionals in exterior house cleaning came up with the idea of soft washing, which is a profound improvement. The process gently removes algae, moss, mildew, grime, leaves, needles, dirt, cobwebs and wasp nests from every nook and cranny. All those unwelcome organisms are sent packing.
With the proprietary cleaners that our pressure washing services in Sacramento, Ca uses to remove all those microorganisms, insects and arachnids, it will take some time for these to return. Meanwhile, the cleaners do not harm the plants in landscaping around the home.
Another bonus of the soft washing process is that removing the harmful contaminants from the surface of the home prevents the deterioration of its surface and also prevents the discoloring of the paint substrates that occurs when a home is covered in troublesome microorganisms.
Here's an overview of the soft washing procedure:
• House cleaning detergents are applied to the exterior of the home.
• After allowing the cleaner time to do its work, the surface is rinsed with a low pressure rinse.
And here are a few examples of surfaces that can be soft washed:
• Awnings
• Decks - of natural timber or Trex
• Eves
• Exterior benches
• Fascia boards
• Gables
• Gazebos and pergolas
• Guttering
• Skylights
• Vinyl siding
• Weatherboards
• Window frames
• Wood siding
With Precision Power Washing we take pride in our work. We will assure that your home has the maximum curb appeal after soft wash pressure washing. Careful attention to window cleaning and all exterior pressure washing is included in the service.
Any homeowner who has pride of ownership enjoys seeing their home look clean and attractive. A soft wash from top to bottom does just that. Even a vintage home, with all its period charm, will look new and well-loved.
For those considering putting their home on the market, think about how a comparatively inexpensive treatment of soft washing is likely to make a huge difference in the home's appearance. It may even allow a homeowner to reevaluate the notion of needing to paint the exterior and give it a new roof. After a gentle but thorough cleaning, including sparkling glass after window cleaning, it is possible for the home to look so market-ready that the money for exterior paint can be invested instead on the interior improvements.
A clean home from roof shingles to driveway tells perspective buyers that this is a well-cared-for home. That information encourages a sale.
When considering pressure washing and window cleaning in Sacramento call Precision Power Washing, for outstanding cleaning services